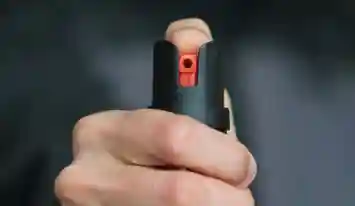 PEPPER SPRAY SAFETY TRAINING
      Participants must be 18 to take this class.
Learn how to think ahead to avoid potentially dangerous people and places;
Be more situationally aware;  and
How to not be a soft target!
Be Smart - Be Ready - Be Safe
This ½-day class can help you learn how to identify threatening behaviors and be better prepared to escape dangerous situations safely.
We will train with inert (water) sprays, so when you do carry your pepper spray, you will be in the proper mindset, which then puts you in a better position to spot and avoid a potentially dangerous situation or person.
** You will not be sprayed with "real" pepper spray - we will train with water sprays **
Participants will receive a training manual, 3 inert water sprays to practice, and one Sabre Pepper Spray to take home.
Students will be educated on the following:
• How to discourage dangerous threats
• Ways to identify and avoid potentially dangerous situations
• Protection at a safe distance
• How to use Sabre products effectively and responsibly
• Personal safety skills for smart living
Anyone can benefit from taking a pepper spray safety class - whether you're a runner, commuter, student, someone who travels for work, retiree, homemaker - this class is for you!
Those who are habitually prepared to protect themselves are less likely to ever have to!
Cost includes classroom/facility fees, and all materials will be provided upon arrival to class.